THE THURNSCOE HARMONIC MALE VOICE CHOIR. EST 1924

Secretary & Webmaster - Email :- Mr. John Keating :- johnkeating9454@aol.com :- Telephone No 07747891288
Concert Secretary - Email :- Mr. Ken Barry :- kenbarry14@gmail.com :- Telephone No 07710293237
Site Updated.
17.11.2023.
Click for N. A. C. website
You can view ALL our videos recorded live at concerts on
Search for T.H.M.V.C. Or Thurnscoe Harmonic Male Voice Choir.
This page will display messages for members information, when they are available.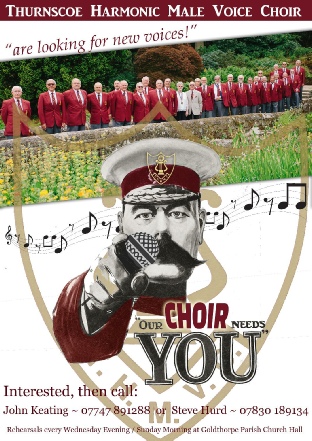 The Thurnscoe Harmonic Male Voice Choir
is a non-auditioning choir, providing the opportunity to learn and develop singing skills which, in turn, enhances physical and mental well-being in a fun, friendly, relaxing and non-threatening environment. Performances over our 100 year history have raised thousands of pounds for national and local good causes.
All choir members are volunteers. They are guided forward by a committee of a Chairman, a Treasurer, a Secretary, a Concert Secretary, a Musical Director, a Principal Accompanist and several committee members, all presided over by the President.
The choir works very well on a majority decision basis.